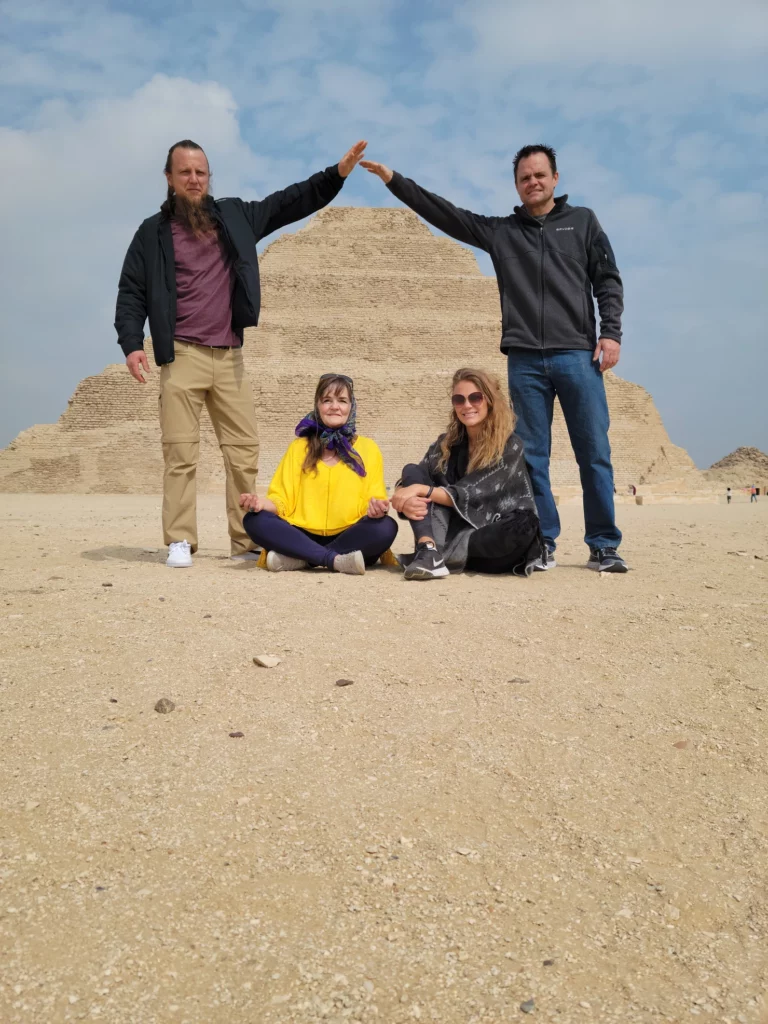 So Many Synchronicities Starting Our Journey.
We landed in Egypt, after two days of flights. Starting out boarding in Salt Lake City at 11:45 AM, we landed in Dallas Ft. Worth, had a 45-minute layover so we barely made our flight to London. From London, we had 90 minutes to catch the flight to Cairo. We landed in Cairo at 4:30 PM the next day. This being my first time ever to visit this land, it is very meaningful and I will explain why once again. My purpose and focus for coming is not as a tourist even though we did land two days early to get in sync with the energy of the land.
Matias announced to us in our first training video; "This is not a tour, this is not a retreat, you did not come to spend time with me, you paid for accommodations only. Not for time with me. If you came here to see me, you must stay home because they will take me into the Earth if that is your reason for coming."
I just want to make it clear how sacred this is for all of us who have gathered here. I do not want to distract readers or anyone else if your purpose for reading this blog as to learn more. I have had many people express their desire to join as back home so I will keep you informed if possible.
We first connected with Jason and Brigham's cousin named Megan Darger who happens to be in Jason's group. She heard about the event and signed up a year ago unbeknownst to us. Now here is another amazing synchronicity, not just the three of us, but now all four of us will be entering the pyramid at the exact same time. Interesting?
I believe there are no accidents. Forty-five groups are divided into three groups that enter the pyramid together. They made it clear up front that they were not putting family together in groups. Yet, four of us end up in three groups, mind blowing to me.
With that said:
We gathered at breakfast to decide on how to spend our first day in Egypt so we could get a feel for the land. Brigham learned from an acquaintance about a special connection to get a private tour of pyramid and tombs in the Saqqara dessert on horseback.
"Do you all want to check it out?" Brigham asked.
"WOW! I am in," I told Brigham.
Megan and Jason both said, "I am in!"
We all agreed and off we go!
His name is Mahmoud, a beautiful man with a passion for the desert. He greeted us in a pleasant sky- blue robe. He had on a blue cap wrapped in a white scarf connecting in the back. He had a very traditional Egyptian scarf with tassels around his neck in blue and black plaid. If you have been to Egypt, you have seen them. All his people helping him had similar scarfs but different colors. I have one of these scarves because my other young son who speaks Arabic is in the army, he was stationed in Egypt and brought Brigham and I a scarf home. I was wishing I had brought mine to wear on my visit.
This man had a twinkle in his eye. His love for his job poured into his every word as he showed us the most beautifully carved and painted ancient historic tombs and a pyramid thousands of years old in the Saqqara Desert. Not only that, but he also politely asked me at every stop, "Please give me your phone," as he placed\ each of us in perfect alignment with many professionally perfect photos that made it even more unique.
He had it dialed in, the pictures were amazing. It was fun and humorous to say the least.
He was very charming and professional but more than that. He was not there for the money. It was as if the desert was his home, and he was welcoming us into his favorite scenic view. The desert has a very special energy to it. A slight breeze is always blowing softly through our hair.
At one point he brought us to a special spot in the middle of the desert and suggested that we meditate and listen to the silence. We all sat in a circle as he left us on our own. I had put hape in my backpack, so we all enjoyed a round of meditation with it as Brigham placed a group of small rocks in a stack that Mahmoud gave him along the way. Brigham has a medicine space in Utah where he facilitates ceremonies with Grandmother, so he is very connected to the Spirit of the land. He left the rocks as an alter to leave a token of gratitude in the desert.
Matias had told us the Spirit of Egypt had expressed it did not want us to take from them as most visitors do without giving back. Brigham was very conscious of this request to take nothing home from the land. Then, after a good four hours or more of amazing tours, Mahmoud told us he was taking us into his home to feed us. At this time we were all on horses, he gave us time to gallop through the desert if we chose. I opted to gallop sitting behind him on my horse for that experience.
We eventually ended up riding deep into the desert with nothing in sight but the tip of the huge
pyramid. I had no idea where we were going. In my mind, when he asked us to gallop, I imagined my horse running away deep into the desert with me on her back. He sensed that and kept me safe by walking alongside of my horse all the way holding onto the reigns.
We were so entertained we forgot that we had been quite a few hours without food. We began to get hungry, he laughed and told us to keep going. He said we were going to his home, but I could see nothing but desert far and wide. Then after a while, the horses began chomping at the bit. They wanted to run, I knew enough about horses to realize they knew food and water were close by. Although I could not see anything but more desert. He laughed at my curiosity and kept walking alongside me telling me how many miles he walks a day. I forget the kilometers, but it sounded like a crazy amount indeed.
Suddenly, I could see in the distance what seemed like a small oasis. Sure enough, as we got closer a huge cluster of palm trees popped up out of nowhere.
"How is this possible?" I asked as we got closer.
He threw his head back and laughed, "This is my home, I have lived here my entire life." The closer we got, the more it seemed like I was watching a movie. Buildings appeared and sure enough, out in the middle of nowhere, was a small town. We got down off our horses as he took us to a small toilet room and instructed each of us to wash our hands after.
He then brought us into his home, introduced us to his wife as he had us take off our shoes and told us to sit on these beautiful rugs. Then his twelve-year-old son brought in a big round silver table about one foot high. We all sat on the floor around this beautifully crafted table and plates of food began to fill the table until there was no room left.
He walked in and sat down, "Eat! He said with a huge smile, he began to inform us a what we were eating.
He said with much pride, "This cheese is freshly made today, and this cheese has aged many months, but it is all organic because we make it here ourselves."
There was a pile of huge round naan bread as he lifted it up and passed one around to each of us. These are eggs from my chickens, my wife make this bread, (in broken English). These are from my crops (tomatoes and cucumbers)." He said with a huge grin, "now eat until it is all gone!"
We all looked at each other, I had announced to him earlier that we could not eat meat because we could not enter the pyramid with dead meat in our body. If I had not, he would have cooked us his chickens.
The cheese was better than any cheese I have ever had. Her bread was amazing, yet so much more than I could eat so I kept slipping large portions of mine to Brigham secretly until he was stuffed. It was quite a feast while listening to him tell us about his father and his family of five children. He brought in an album and proudly showed us pictures of him and his family. He had a beautiful 4-month old baby he brought in to show us.
He talked about his father's early death from cancer. He grew up on an oasis in the desert as a young man and loved helping his dad raise horses that he used for touring this special and sacred land. He said he refused to go to school because he loved the desert and could not sit in a classroom, so his dad allowed him to work alongside him. He announced proudly that he could not read nor write because of his love for the desert.
Jason asked him how he learned to speak English. He totally caught us off guard when he said, "From tourists!" Then he began speaking full on Spanish, we looked at each other and laughed. Both Brigham and Jason speak Spanish. On top of that, he started speaking fluent French. He learned all these languages from growing up with tourists. Wow! We were impressed.
Then he took us around back to where he had a fire going. "Sit down and we will have some black tea," he said with a gleam in his eyes. "This is my favorite time of the day to watch the sunset in the desert while drinking hot tea. He had a unique way of heating it up on
the fire. We sat around the fire while sitting upon a large bag of sand. Then he showed us many pictures on his phone of sunsets he had captured.
By the time our driver arrived we were very fulfilled and moved by the entire experience. What a great way to get in touch with Mother Egypt. We give much gratitude and thanks to you and to Mahmoud for sharing his passion for the beautiful silent desert.
We love you all, God bless this land.
Shauna Cuch